Let's See Those Pearly Whites,
We are PAWsitively Excited for Pet Dental Health Month
Curious about Pet Dental Health? The team at Hounds Around Town has you covered as we know the importance of keeping your pet's teeth and gums healthy! Pet Dental disease, especially when severe, can be quite painful for dogs and cats. Let's get proactive and add oral hygiene to your pet's daily care routine. This will help prevent the bacteria in plaque entering your pet's bloodstream and ultimately spreading to the heart, kidneys and liver. And, knowing 80% of dogs begin to show signs of oral disease by age 3, why not start early? So let's get PAWsitively excited about Pet Dental Health.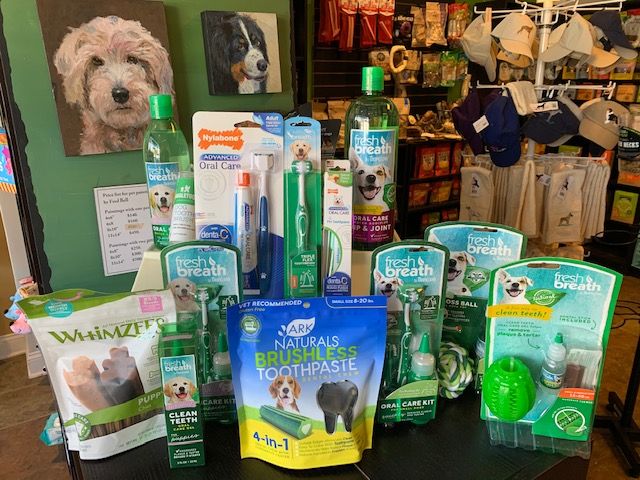 Let's Talk Brushing
Try to brush your pet's teeth daily, add it into your morning or nightly routine. Use either a Flex Brush or a fingertip brush and squeeze a small amount of clean teeth brushing gel onto the brush and allow your dog to taste. Reapply and gently brush in a circular motion. Never use human toothpaste, which can upset your pet's stomach. For best results, try to withhold food and water for 30 minutes before and after you brush. We love TropiClean Oral care kit for dogs, Nylabone's Advanced Oral Care Dental Kit and Petosan complete dental kit at the shop.
Can Treats Help with Dental Care?
Yes! Ark Naturals has an amazing brushless toothpaste that can be given as a treat! This 4 in 1 Dental Care solution abrasively cleans teeth, mechanically helps reduce plaque and tartar buildup and freshens breath. Need more of a chew to keep your pup busy? Try Whimzees Natural Daily Dental Treats - a favorite of our CFO (Chief Fetching Officer) Lars! Whimzees fun and unique shapes are designed to help clean teeth, reduce plaque and tartar, promote healthy teeth and gums, and improve breath as your dog chews. And bonus, they are vegetarian, GMO free and gluten free.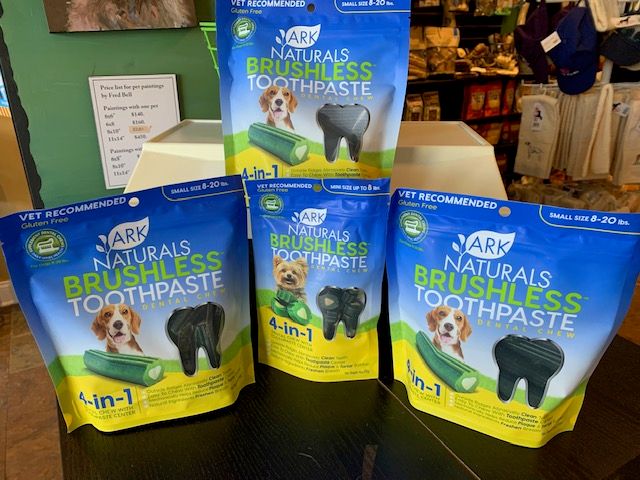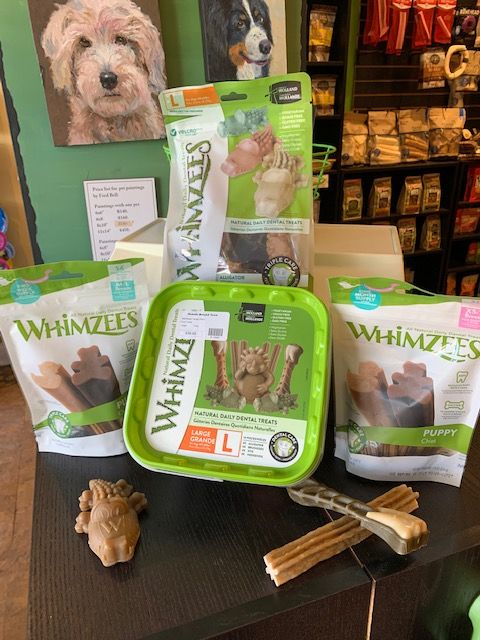 What about a no brushing solution?
Try Tropiclean Fresh Breath No Brushing Dental Health Solution. This liquid is uniquely formulated to help defend against plaque and tartar and helps keep your dog's teeth healthy and clean. Simply add 1/2 capful to 1 cup of water twice daily. Another brushing alternative is Tropiclean's Fresh N' Fun Dental Chew Toy. This toy has textured bristles to help brush your dog's teeth, defend against tartar and massage your dog's gums. When you add the Clean Teeth Gel and a Dental Stick, you can help remove plaque and tartar and help freshen your dog's breath.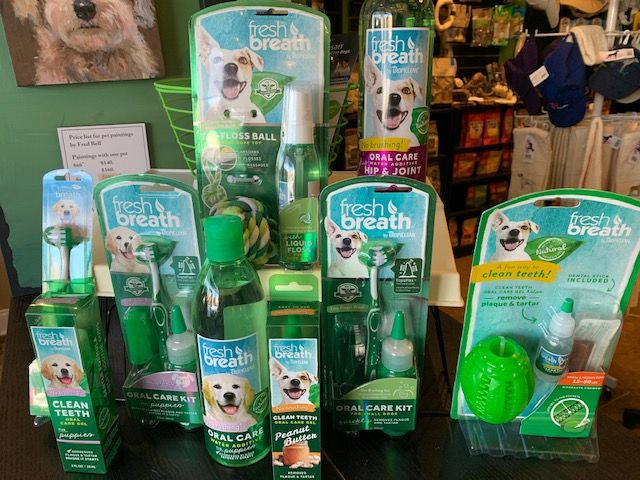 Let's make a commitment this month to add oral hygiene to your pup's daily care and we want to see some sparkly smiles! Let us know how we can help you support your pet's health and dental routine. Shoot us an email with questions: bark@houndsaroundtown.net
Or tag us on Instagram @houndsaroundtownwfb with your pup's best pearly whites to celebrate Pet Dental Health Month!